Details

Published: Saturday, 17 September 2011 04:31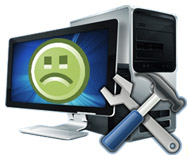 If you're a company that uses a computer on a regularly with a high-speed connection chances are you may have already run into some sort of virus, spyware, adware or malware. An IDC study showed that over 67% of home PCs had some sort of infection and that percentage rises with every year! Don't let spyware, adware, malware or viruses zap your business' productivity! New Web Experts recommend using Malwarebytes Antimalware and Spybot: Search & Destroy which can be downloaded for free from CNET Download.com.
These programs are free to use and are essential tools to keeping your computer clean and free of malicious spyware. If you need help with protecting your office or personal computers from spyware, adware, malware and virus attacks be sure to contact the New Web Experts.