New Web Experts has briefly touched on tips for better using your smart phone. Our computer consulting team runs into more and more cases regarding smart phone setup, training and usage. The most popular topic however regarding smart phones has been smart phone security.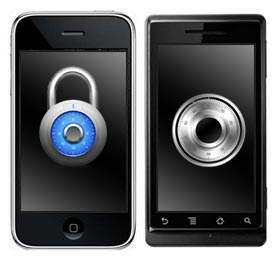 The modern smart phone (such as the iPhone and Android powered phones) is starting to develop similar utility and power as our home computers. People can now browse the internet, check their email, get directions, listen to music and even befuddle amusing animated cats all from the palm of their hand thanks to their smart phones. With all this data being streamed one has to wonder how secure it all is. With assorted media outlets bringing to light various privacy issues, security vulnerabilities and ability to spy on your person through the power of your phone has many of our clients wonder what they can do to make their phone more secure! Here are a few tips to help make sure when you use your smart phone, you are using it securely.
Know the apps you use intimately: You should do your share of research before grabbing a new app on your smart phone. Does the app require login and password? Does the app constantly stream data and updates to your phone? Does the app hold any personal or financial information? Just because everyone is using it doesn't mean it doesn't have some hidden risks. Make sure the app provider has a privacy, terms and conditions statement that you can check to see if the app constantly streams to you or if it holds any of your valuable account data. Don't bog your smart phone down with a ton of apps as not only does this compromise performance and battery life but also can open you up to more security threats.
Use strong passwords and don't save your passwords in your phone: Although inconvenient at times, having a strong password (at least 6 characters, using numbers, letters, capitalization and punctuation if available) is your first line of defense when securing your smart phone (or any other computing device). Make sure you memorize these passwords, and that they are not written in plain sight. If at all possible, for even more security, get into the habit of entering your password every time in order to login or launch an app. If your phone were ever infiltrated or hijacked this will ensure they do not get an all-access pass to all your data, accounts and apps.
Look into Remote Wipe options: If your phone were ever stolen, your data could very well be compromised. Your accounts, passwords, financial information and your very identity could be at risk! That's why it is a smart move to research any Remote Wiping options your phone or carrier service may have. Remote Wipe is the ability to wipe out the data on your phone remotely in case it was stolen or lost. A few third-party providers include Lookout Mobile Security, NotifyMDM and Zenprise. Apple has their own service through their MobileMe/Cloud service.
Consider an antivirus for your phone: Who would ever have thought there would be a day that your phone would need to have an antivirus program? That time is now, as more and more people are using smart phones so are the hackers catching on to the fact that smart phones are a lot easier to infiltrate than their PC desktop brethren. You may want to consider an antivirus program for your smart phone. The aforementioned Lookout Mobile Security provides some protection against viruses, spyware and malware on your smart phone. The security giants are also developing mobile security services such as AVG and Symantec. Do your research and see which one would work best for your phone.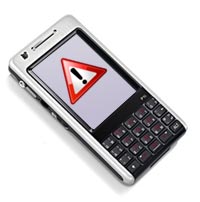 Live in the Southern California – Palm Springs area and are in need of computer consulting or training? Feel free to contact the New Web Experts today with all your IT and consumer electronic questions.